Nairobi, one of the most beautiful and tourist destinations in Africa has luxury as its way of life and the luxurious and best hotels showcase it magnificently. Whether you are a discerning traveler, business executive or you are looking for a romantic retreat, Nairobi best hotels offers everything that will suit your needs, from luxury and comfortable rooms, modern facilities to luxurious services.
We've hand-picked 15 best Nairobi hotels for your perfect vacation stay. These hotels offer buttoned-up services and are ready to pamper you. Get to know why these hotels are the best hotels in Nairobi and let's go experience them together.
1. Villa Rosa Kempinski Nairobi one of best hotels
Villa Rosa Kempinski is a paragon of luxury living set in the heart of Nairobi cityscape. The hotel is a distinct and exclusive residential experience with its architectural and beautiful interior décor. The hotel features 200 comfortable and luxury rooms and suites, bars and restaurants, spa facilities and event spaces. Guests are showered with unparalleled bespoke services in the coziness of the elegant hotel. Villa Rosa is designed for finest luxury and it is one of the best hotels in Nairobi that offers ultimate privacy and extreme comfort most guests are always looking for.
2. Nairobi Serena Hotel
Always voted as one of the best hotels to stay in Nairobi because it is known for its timeless style, exceptional quality standards and customized services. With its wide range of accommodation options, extensive gardens, restaurants and pool bars, coffee bar and teashop, business centre and recreation facilities, Serena Hotel pampers its guests with luxury, conveniences and comfort that they are familiarized with at home. It offers ample stylish furnishings, tantalizing appearance of culinary experience and excellent services. It's a beautiful place to lodge for a memorable vacation.
3. Fairmont The Norfolk

Fairmont The Norfolk is an oasis for travelers who look for the comforts of a home. The hotel displays the stylishness of ancient era and conserves the plush part of Kenya's history. The hotel offers luxury accommodation – 170 rooms and suites, outstanding restaurants, recreation facilities and world-class conference rooms. Fairmont assures relaxed accommodation blended with excellent services. It will definitely make you enjoy all the luxuries for a memorable stay.
4. Sarova Stanley
Sarova Stanley keeps to its renowned standard of comfort and service. The hotel is the first luxury hotel in Nairobi in 1902 and it boasts tastefully selected and designed accommodation facilities, which are equipped with all the indispensible amenities to ensure guests an enjoyable stay. Over the years, it has played a gracious host to prominent guest from different parts of the world. The hotel stands out as one of the best hotels in Kenya and it is loved for its unmatched style and supreme superiority in service and facilities.
5. The Boma Nairobi
Enjoy a warm welcome within the heart of the vibrant city of Nairobi at The Boma Hotel. A peaceful retreat with 148 well-furnished rooms, breathtaking interior décor, intercontinental dining options and fabulous entertainment experience for those looking for a place that is beyond the ordinary. The Boma Hotel promises guests a whole new experience of luxurious coziness and elegance that gratifies the body, soul and mind.
6. Sankara Nairobi
Tastefully decorated with elegance, Sankara Hotel exudes quiet luxury and chic comfort. The contemporary décor, sleek furnishing and lush amenities, each room displays a sense of luxurious comfort that gives guest the sense of relaxation. The hotel features spa, fitness centre, meeting and event spaces, club lounge and restaurants. Ultimately, it provides a seamless experience for every guest.
7. Hemingways Nairobi
Hemingsways Hotel is a refined blend of heritage classy and contemporary design boutique hotel with very exclusive rooms, made especially for travellers seeking a unique vacation experience. The hotel features a range of dining options, 45 well-furnished rooms, butler services, spa and fitness centre and many other excellent amenities. This hotel is the perfect choice for your next holiday.
8. Crowne Plaza Hotel Nairobi
Without a doubt, Crowne Plaza Hotel is the perfect place to rendezvous for pleasure or business. When you arrive at this hotel, you step into a world of beautifully designed elegance. The hotel is sleek and sophisticated, yet it has an old-world charm that attracts every guest. All the rooms and suites are comfortable yet stylish, ensuring an enjoyable stay for every guest. It also offers a range of entertainment and culinary specialities and entertainment at the Brasserie.
9. Fairview Hotel
Fairview Hotel is a cool country retreat, where you will find exceptional amenities, pleasing hospitality and outstanding services. Set on Nairobi Hill, among leafy palm trees, it is difficult not to feel like indulged royalty here. Combining the old-style panache with a modern feeling, the hotel is as enticing as it is cultured. It features amazing accommodation options, gardens, pools and impressive dining options. What's there not to love about this hotel? It's simply one of the best you can find in Nairobi.
10. Best Western Premier Nairobi
Best Western Premier is the best place to experience the dose of reminiscence with a touch of freshness. Guests can revitalize in a leisurely setting of grandeur influences that transform to a cherished comfort throughout their stay. The hotel is a perfect place to stay when you are in Nairobi. It features a wide range of accommodation options, concierge services, business centre, swimming pool and health club, dining options – international restaurant known as Pablos, bar and lounge and other modern facilities and services. The elegant interior décor is a glowing picture of hospitality!
11. House of Waine
House of Waine is an award-wining boutique hotel, it is family owned and run and it offers luxurious accommodation in a vibrant and cosmopolitan setting. If you are looking for a relaxing, yet classy place to stay during your vacation or business trip to Nairobi, this hotel is the best bet for you. It fulfils every guest's requirement. Guests can enjoy the unique interior décor – a cue from the family lineage, exclusive dining options and a wide range of amenities. The House of Waine gets the hospitality formula right always!
12. Hilton Nairobi
Boasting a fascinating location in Nairobi, Hilton Nairobi is a highly recommended hotel that provides admirable value for money and it's an ideal retreat point for seeing most of the major landmarks in the city such as the KICC, government offices, and universities, the Parliament, the high court of Kenya and many more. It offers world-class service and modern amenities that will definitely meet your needs. This is truly a unique establishment with relaxed accommodation and dining options.
13. Southern Sun Mayfair Nairobi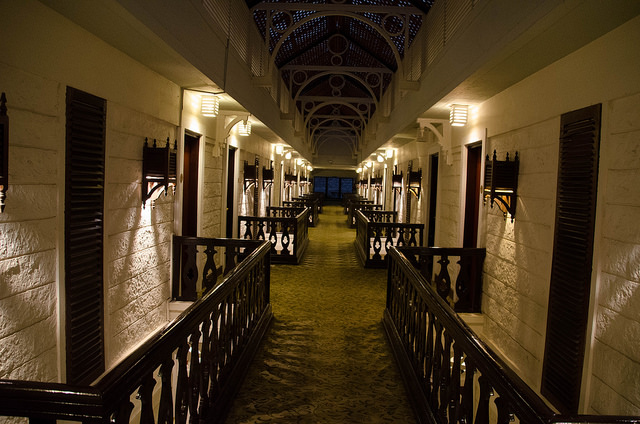 Southern Sun combines the atmosphere of genuine warmth and Kenyan hospitality to give guest a pleasurable stay in Nairobi. The hotel boasts an fascinating location in the city; it's an ideal place to begin the 'journeying' of the city. It provides stylish accommodation options and welcomes guests who are looking for extraordinary places to stay. It provides an all-inclusive experience, a well-equipped fitness centre, restaurant and bar, an outdoor pool and conference rooms to give guests a time of rejuvenation and relaxation.
14. Hotel Emerald
Hotel Emerald is a definitive place for a delightful as well as relaxing stay. Located along the buzzing Woodvale Grove, the hotel offers quiet accommodation and excellent services. It offers value to every guest in every single aspect. It features a stylish décor and a heartfelt hospitality, a wide range of impressive accommodation options, amazing dining options at Vista restaurant and top-notch amenities. It's really a nice place to stay!
15. PrideInn Hotel Westlands
Strategically located within the heart of Westlands in Nairobi, PrideInn Hotels is decorated and furnished in a contemporary and classic way. With a range of accommodation options, guests can enjoy a quiet and comfortable stay at the hotel. PrideInn is one of Nairobi's most private retreats and it offers maximum comfort.
ALSO SEE RELATED CONTENT
Madaraka Holiday Packages Top Self Drive Holiday Deals in Kenya
If you think you have to travel far to enjoy a nice weekend, you may never get away. Besides, you can enjoy a beautiful weekend right here in Kenya. There are countless wallet-friendly Kenyan self drive getaways that won't even break your budget. Don't spend your weekend, doing absolutely nothing at home. Whether you are looking for romantic destinations, pristine beaches, and adventurous outdoor activities, there are plenty wallet-friendly getaways that will satisfy your weekend desires.
Malindi & Watamu Self Drive Deals
Mombasa South Coast Self Drive Deals
Mombasa North Coast Self Drive Deals
Masai Mara Self Drive Holiday Packages
Lukenya & Machakos Self Drive
Meru Holiday Self Drive Deals
Mt. Kenya & Aberdare Self Drive Holiday Deals
Nyeri Holiday Self Drive Deals
Samburu Holiday Self Drive Deals
Top Outdoor Activities in Kenya
Outdoor activities in Kenya are a great way to experience Kenya, Choosing where to start in Kenya can be overwhelming. The country has many different outdoor activities, ranging from adrenaline-pumping adventures to more meditative outings.
Kenya is always a fantastic destination for family bonding. Spending time with the family on weekend is a great opportunity to re-connect and communicate while having fun.
Outdoor activities are perfect for those who want to experience a relaxing and refreshing weekend in an amazing place. Do something fun this weekend and spend worthy time with your family.
For great weekend bonding, we present to you 6 fun outdoor activities for the family. These outdoor activities are great adventures for you and your family.
Hike To Ol Donyo Sabuk & 14 Falls, Thika
Chaka Ranch Day Trip – QuadBikes, PaintBalling
Ngare Ndare Day Trip Hike (Nanyuki)
Kereita Zip Lining & Hiking Day Trip
Top Madaraka Express SGR Holiday Deals
2 Nights Malindi & Watamu holiday with SGR
2 Nights Amboseli Holiday With SGR
2 Nights Tsavo Holiday With SGR Sa
2 Nights Voi Holiday With SGR
2 Nights Mombasa North Coast With SGR
2 Nights Mombasa South Coast With SGR